This article will guide you through the steps on how to automatically convert the currency based on your customer's location to gain more conversions.
Insert the add-on to your page
Step 1: From the EcomSolid Dashboard, head to the Theme Editor.
Step 2: Access the Library from the top bar of the Editor.
Next, navigate to Add-ons > Sales and Conversion and look for the Auto Currency Converter add-on.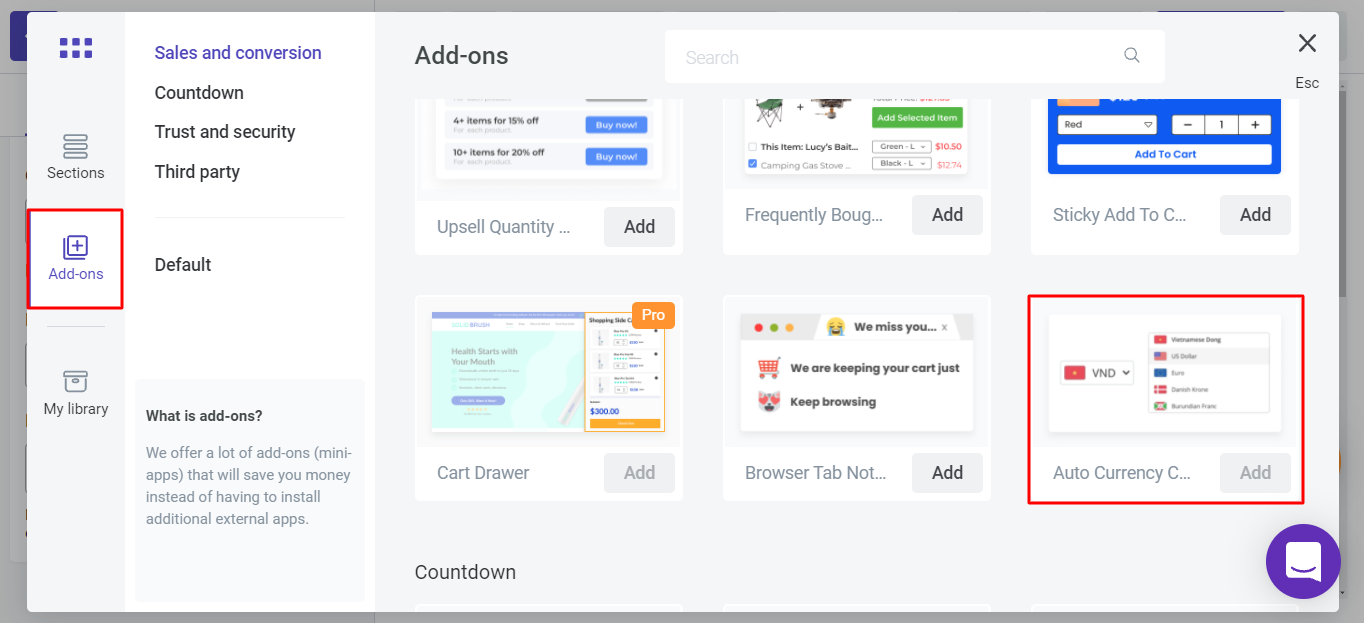 After that, click on the "Add" button, and the add-on will be inserted at the bottom of your Editor.
Due to the limitation from Shopify, the currency converter won't work on the checkout page. It will show the original price when the visitor is directed to checkout.
Configure the Content tab
Click on the Auto Currency Converter add-on to reveal the configuration options in the left sidebar.
Select currency
All the currency supported will be listed down in this section. Hit the Trash bin icon to remove the currency or click on "Pick a currency" to add a new one. The default currency of your store will be included in the list and can't be removed.
Next, the currency picker window will appear for you to select the currency to add. Use the search bar to look for your preferred currencies and hit "Save" when finished.
Display
There are three types of currency converter widgets you can choose from at this point.
Display Format
You can decide the details of the currency format, including:
Currency formatting: Select the format of the price with currency from the drop-down menu.
Decimals (On/Off): Toggle on this switch to display the price as a decimal (e.g., $4.99)
Decimal Separator: Choose the decimal separator between the comma and point.
Round Decimals: Input the number to this field; it will be shown behind the decimal point. If you set it as Auto, the accurate decimals of the converted price will be displayed.


Configure the Design tab
General
Toggle on the Auto position switch; the add-on will be located at a suggested position depending on your chosen preset.
Otherwise, you can manually select a position for your add-on from the Position Currency drop-down menu. After that, adjust the Distance slider for the correct position as you want.
Padding Popup: Input the number to adjust the space inside the widget.
Padding item modal: Use the slider or enter the preferred number for the padding inside the drop-down menu.
Color
Select a color or enter a hex color code for your preferred background color, text color, or hover color.
Typography
Use the slider or input your preferred size in pixels.
When everything is in place, hit "Save" then "Update Live."
Need more help? Feel free to reach out to our Customer Support Team via email and live chat!