EcomSolid is an advanced theme that comes with an advanced Editor. We'll show you how to publish your theme and bring the EcomSolid experience to your front store in this article.
You can publish your EcomSolid theme in two ways.
Publish via the Editor
Step 1: Go to your EcomSolid Theme Editor and select your theme. You will be informed if you have a published EcomSolid theme by the "Published" tag.

If you want to create a new theme altogether, go to the EcomSolid Dashboard > Templates instead, and install one from the theme library to start designing.

Step 2: Design your theme and make adjustments as needed.

Step 3: Hit "Preview" to check how your theme will look on the live page.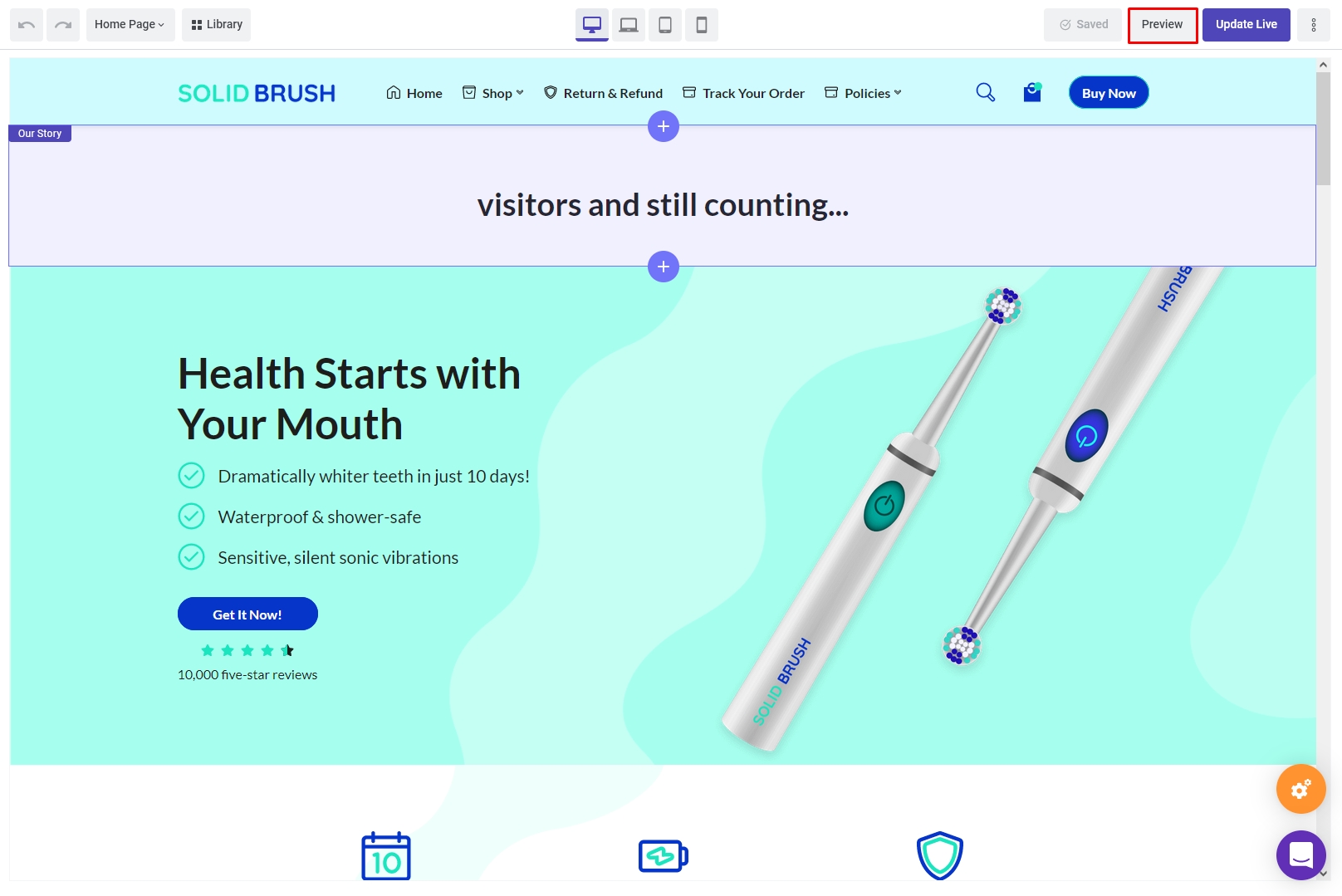 Step 4: When everything is in place, hit "Update Live" and "Yes, Update" for EcomSolid to start rendering and bring the new changes to your front store!

Step 5: When the process is finished, you can click on "View Live Store" to check out your live page. This button is also available in the 3-dot menu.

When viewing your live page, you might notice the URL has a few extra characters: "?_ab=0&_fd=0&_sc=1" - These characters at the end of the page URL do not affect the page and can be removed
Publish via Shopify Admin
You still need to go to the Editor for any editing needs. For this reason, we'd recommend that you publish your theme via the EcomSolid Editor only for the best compatibility and convenience.
Please avoid duplicating your
EcomSolid
theme in the Shopify Admin, as this may cause conflicts with the
Editor
.
As with other Shopify themes, EcomSolid also supports publishing right from the Shopify Admin.

Step 1: Go to your Shopify Admin > Online Store > Themes

Step 2: On the right, look for EcomSolid and hit "Actions" to bring up the menu
Step 3: Hit "Publish" and confirm the action by hitting the second green "Publish" button.
And there you have it! For any further assistance you need, our EcomSolid Support Team is here to help.