What is Library?
The Library is a destination where you can find all the resources that make up an amazing online store. EcomSolid Library includes Sections, Add-ons, and My Library with all functions you will need to build an extraordinary one.
So where to find the Library on EcomSolid?
There are 2 ways to get access to the Library
Go to app.ecomsolid.com and click on Theme Editor on your left sidebar to open the section dedicated to custom pages.
When a pop-up "Welcome to Global Style" appears, use Start Design Now button or close the Global Style if you want to go straight to the Library at the top of the page, then open and enjoy its functions.
Or:
On your Ecomsolid's Dashboard, scroll down to Theme Library on your right sidebar and click on Customize to open the pop-up "Welcome to Global Style".
Repeat Option 1 to go straight to the Library.
Let's take a look around
At the left of the library page is the main menu including Sections, Add-ons, and My Library.
The Section gives you options for the key elements of your store template.
There are approximately 140 available layouts, spreading evenly across 20 sections of the Library. Designing your store is never easier!
(below is not the full set of options, explore all in EcomSolid's Library)
Header
Footer
Slideshow
Banner
Content
Product
Product Description

Product List
Cart
Top Bar
Newsletter
Testimonial
Trust
Instagram
Blog
Article
Contact
Password
404
Extend

The Add-Ons provides you with Sales and conversion, Countdown, Trust and security, Third-party, and Default.
What is My Library?
My Library is a secure place to store theme functions where you can find them easily, work on them, and access them from any device at any time.
What is the differences between Library and My Library?
While you may expect any elements you need in an array of the Library, My Library is totally different. You have to save your own stuff like add-ons, sections, custom codes, etc to have them in.
How to fill your Library?
Click Export at the end of each element you want to back up and find it in My Library.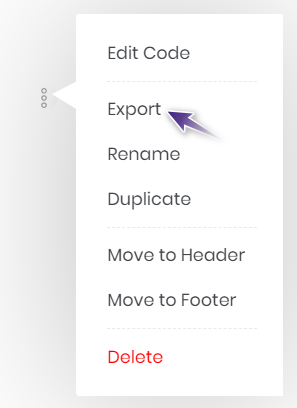 Final Words
Ready to start? Click here to work with the Library.