This article will walk you through the steps to integrate the Vitals app with EcomSolid.
Install the Vitals app
Before we start, you will need to install the app first by following these steps:
Step 1: Install the Vitals app from the Shopify App store by clicking on the "Add app" button and filling in your store domain if needed.
Step 2: Hit "Install app" after reviewing the permissions.
Step 3: Finalize the in-app settings. Click here for the detailed instructions, or contact the Vitals support team for further assistance.
Add the Vitals add-on to your pages
Step 1: From the EcomSolid Dashboard, head to the Theme Editor or Page Editor.
Step 2: Access the Library from the top bar of the Editor Page.
Next, navigate to Add-ons > Third-party and look for the Vitals Integration add-on.
Click on the "Add" button to insert the add-on to your page.
Configure the add-on settings
After that, you will find the add-on has been added to your Editor. Click on the add-on to start configuring the settings.
Display position
Hit the "Pick the position" drop-down menu to select a position from the list.
Otherwise, click on "Change position." You will be able to drop the add-on to a specific position on your page.
General
You can determine you to determine the width of the Vitals widget.
Container Full: The review widget will fit the width of your page.
Container: The widget will be displayed following the global style.
Choose app
Select the type of data you want to export from Vitals to EcomSolid. There are 6 options you can choose from the drop-down menu, including:
Product Reviews: Show product reviews and a form for customers to submit their own.
Product Bundles: Create Upsell and Cross-sell campaigns to increase average order value and revenue.
Volume Discounts: Create your "Buy more, save more" campaigns to increase the number of products a customer buys.
Trust Seals and Badges: Display high-quality badges and seals on your store to raise your visitors' trust and catch their attention.
Payment logos: Let your visitors know what payment methods you are accepting.
Shoppable Instagram Feed: Build social proof by displaying a gallery of Instagram posts with tagged products.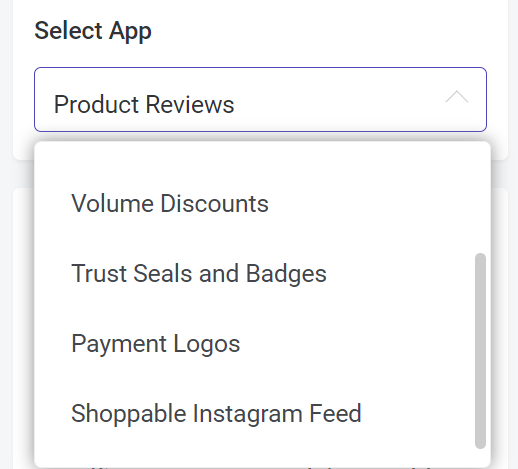 Kindly note that EcomSolid only fetches the data from the Vitals app to display on your page. Please check the in-app settings if you would like to further customize the widget.
When everything is in place, hit "Save" then "Update Live."
That's it! If you run into any problems when editing, please get in touch with our Customer Support via email or live chat.