The frequently bought together add-on is a powerful tool to make additional sales & revenue by showing your customers smart recommendations that will make them more likely to purchase more items.
This default EcomSolid add-on can only be set up on your product pages and can work additionally with other sales boosters such as the upsell quantity add-on.
This add-on is locked for free plan users, please upgrade your account to our professional plan to enjoy the benefits of this amazing feature!
Setting Up the Frequently Bought Together Add-on
Step 1: Reach EcomSolid's theme editor and open the "Product Page" on the dropdown menu on top of your page.
Step 2: Open the Library, click on Add-on > Sales and Conversion and scroll down until you locate our "Frequently Bought Together" Add-on.
Step 3: Insert it and click on "Edit Campaigns" on your left sidebar.
Creating a campaign
Step 1: Change the name of the campaign accordingly to the products you are putting in this campaign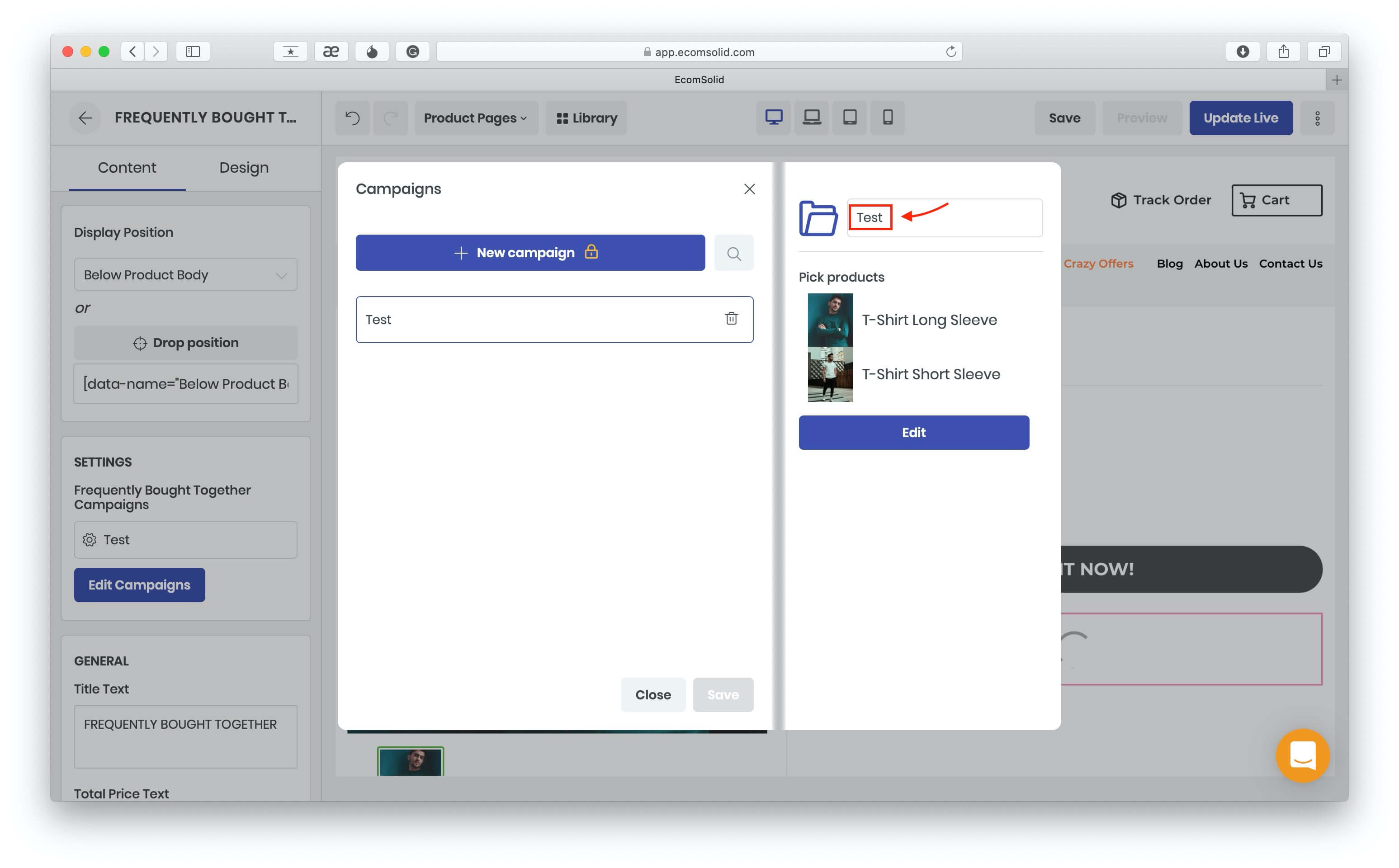 Step 2: On the right sidebar, click on edit to add and remove products from this campaign.
Choose 2 or more products that fit well together and that will be displayed every time a user visits one of them.
Step 3: Press on "Save" and your campaign is ready to be launched!
If you are on the professional plan, you can repeat the same steps for the other campaigns you'd like to create.
Positioning the Add-On
Step 1: Select the position from the dropdown menu on your left sidebar or click on "Drop Position" below it.
Step 2: Choose your position and publish your page.
Unfortunately, our visual editor and preview are conflicting with the frequently bought together add-on, thus we recommend you to publish your page and see if it's working properly on your live website.