In this article, you will learn the benefits of add - ons, the difference between page add-ons & global add-ons, and lastly, every add-on that comes free packaged in EcomSolid.
What are Add-ons?
EcomSolid add-ons are beneficial to make your store function at a higher level by providing features Shopify doesn't offer. EcomSolid supports various types of add-ons that let you add bells and whistles to your store to do what's needed. You can use our add-ons to boost sales and conversion, build trust and security, show unbiased ratings and reviews, etc.
What types of Add-ons do we have?
Page Add-ons
Page add-ons give you the means to add options to your individual products using several different types of fields. You could add things like Upsell Quantity Discount, Frequently Bought Together to boost your sales potentials.
Global Add-ons
Global Add-ons allows you to apply to all products and all pages in one go. Even if you're running a store with thousands of products, Global Add-ons make it simple, just a few minutes to accomplish.
Categories of add-ons
**Please note that these types of add-ons are official but not mandatory. You can easily move add-ons from page to global and back again.

Add-ons are divided into 5 categories
Let check out these general categories of available add-ons on EcomSolid:

Sales and conversion
These key add-ons help you to make a powerful influence to boost sales and increase item quantity. Here we have 4 choices for you.

Frequently Bought Together
Increase Average Order Value by convincing your buyer to add more items to cart with 1 click.
Upsell Quantity Discount
Provide discounts to your customers based on how many products they purchase on your site.

Browser Tab Notifications
Decrease the number of abandoned carts and incomplete orders by changing your store favicon.
Auto Currency Converter
The prices in your store can convert automatically based on your customer's location.
Countdown
The Countdown add-on system is a nice way to create and insert timers into your pages. According to a survey conducted by Whichtestwon, adding a countdown add-on, on average, increased a business' revenue by as much as 9%.

Sticky Countdown Timer
Create discount events or plan an announcement and stick it to the top of your page.

Countdown Timer
Create urgency in the product page to influence shoppers to purchase as soon as possible.

Cart Countdown Timer
Motivate shoppers to make the purchase decision quickly.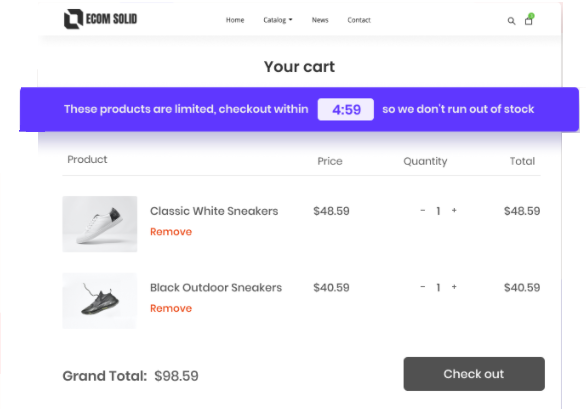 Trust and security
Trust and security add-ons allow you to make your store secure and trusted to meet your business needs.

EU Cookies
Provide everything you need to make sure your website is GDPR compliant.
Third-party
Third-party add-ons are popular Shopify apps that provide your store with additional functionality. These are integrated into EcomSolid to give you the option to insert them much quicklier. Check out this article to see the top 15 useful Shopify apps supported by EcomSolid.

Yotpo Reviews
It is the leading eCommerce marketing platform and the official Shopify Plus Technology Partner. With Yopto Reviews, you can easily display the star ratings badge and review widget on your product and/or collection page.

Ali Reviews (Star Ratings Badge)
It can help merchants gain customers' trust & skyrocket their dropshipping sales with AliExpress Product Reviews and allow store owners to add the AliExpress Product Reviews app to their stores without touching code.

Stamped.io Reviews
Stamped.io is a highly-rated customer marketing platform providing all the tools merchants need to capture and display high-impact content to customers throughout their buying journey.
Recharge Subscription: Recharge Subscription is a Shopify Plus-approved solution for recurring billing. Provide the entire solution to transform existing one-time products into monthly subscriptions with configurable delivery and cut-off dates, inventory forecasting, and order management.

Opinew Reviews
Opinew collects product reviews with the option to add photos from customers, allowing merchants to import reviews from Amazon, AliExpress and eBay. It ensures their technology doesn't affect the page load speeds by not overloading the page with requests when opening.
Areviews - Reviews Importer
Areviews is dedicated to turning your visitors into buyers by filling your website with real reviews and images coming from Aliexpress, Amazon, and Shein, matching with the products you sell.
Rivyo Reviews
Almost 99% of consumers make their decision after reading online reviews. Rivyo app is built with amazing features to boost sales and improve customers' shopping experience.

Loox (Star Ratings Badge)
Loox is a powerful product reviews app on Shopify helping merchants boost their credibility, conversions and sales with social proofs that look great. Set up Loox's Star Ratings Badge add-on on your product and/or collection pages right now to help visitors quickly assess your products.

Loox (Review Widget)
Set up Loox's Review Widget add-on on your product and/or collection page to collect and show product reviews. A must-have widget for store owners who want to offer a good evaluation of their product to customers, as well as additional valuable information.

Ali Reviews (Review Widget)
Ali Reviews is a powerful product review app on Shopify. EcomSolid integrates seamlessly with Ali Reviews, allowing store owners to add the AliExpress Product Reviews app to their stores without touching code.

Ryviu Reviews
Ryviu helps you drive more traffic, increase your SEO rank, and your sales by displaying product reviews with photos and Q&A on any pages.

Judge.me Reviews
Judge.me helps you collect and display ratings and reviews about your products and Shopify store. Such social proof increases your conversion rate, organic traffic, and buyer engagement by leveraging your user-generated content.

Product Reviews
Shopify Product Reviews allows you to add a customer review feature to your products. This provides a way for your customers to engage with you, as well as each other to encourage sales.
Bold Subscription Integrated
Bold Subscriptions is an official Shopify Plus solution if you are looking to sell recurring orders & subscription boxes along with increasing conversions by offering discounts for subscribing, or boost retention by discounting future recurring orders.

Default
You will totally be impressed by our default add-ons. Take time to get substantial benefits they offer.
Cart Drawer
Cart Drawer makes your cart accessible from anywhere on your site without reloading the product page.
Variants Style
Help you create better and more clear product presentations.

Shipping Time
Let your customers know in advance when they can expect to receive your products.

Dynamic Checkout Button
Allow customers to quickly buy the product they are viewing with their preferable paying method.

Custom Text
Add a short description of the prime real estate on your page.
Anti Copy & Spy
Protect your resource and privacy


Custom Image
Add images onto any positions of your pages on your store to make the pages look more engaging.


Custom Code
Add any HTML and CSS codes directly into your store's layout and see the output of your code in real-time.

Facebook Messenger Live Chat
Create friendly and instant communication between you and your customers via Facebook.

Product Size Chart
Offer professional size charts for your customers to improve your conversion rate.