This article will guide you as a new user upon approaching
EcomSolid
for the first time. Knowing everything the
Dashboard
has to offer is the first step to ensure you can get the most out of
EcomSolid Theme Builder.
Theme
Dashboard
Live theme
This is where you manage your active theme, which is the one being published.
Click on the "Customize" button to enter the Theme Editor and start designing your theme.
For more actions, hit the 3-dot button:
Preview: See an accurate preview of your theme before publishing.
Rename: Rename your theme for easier management.
Duplicate: Make another copy of the active theme
Export: Create a backup version of your theme so you can transfer it to another store that also uses EcomSolid. Exported templates will be saved in the Templates section, under the Your Themes tab.
Draft themes
Unpublished themes are stored here. You can continue to design your draft themes at any time using the "Customize" button.
Other actions are the same as the Live theme section: Preview/Rename/Duplicate/Export and with an addition of a 2-step confirmation Delete button to delete themes you no longer use.
Hit "Add new theme" to start creating a new theme template.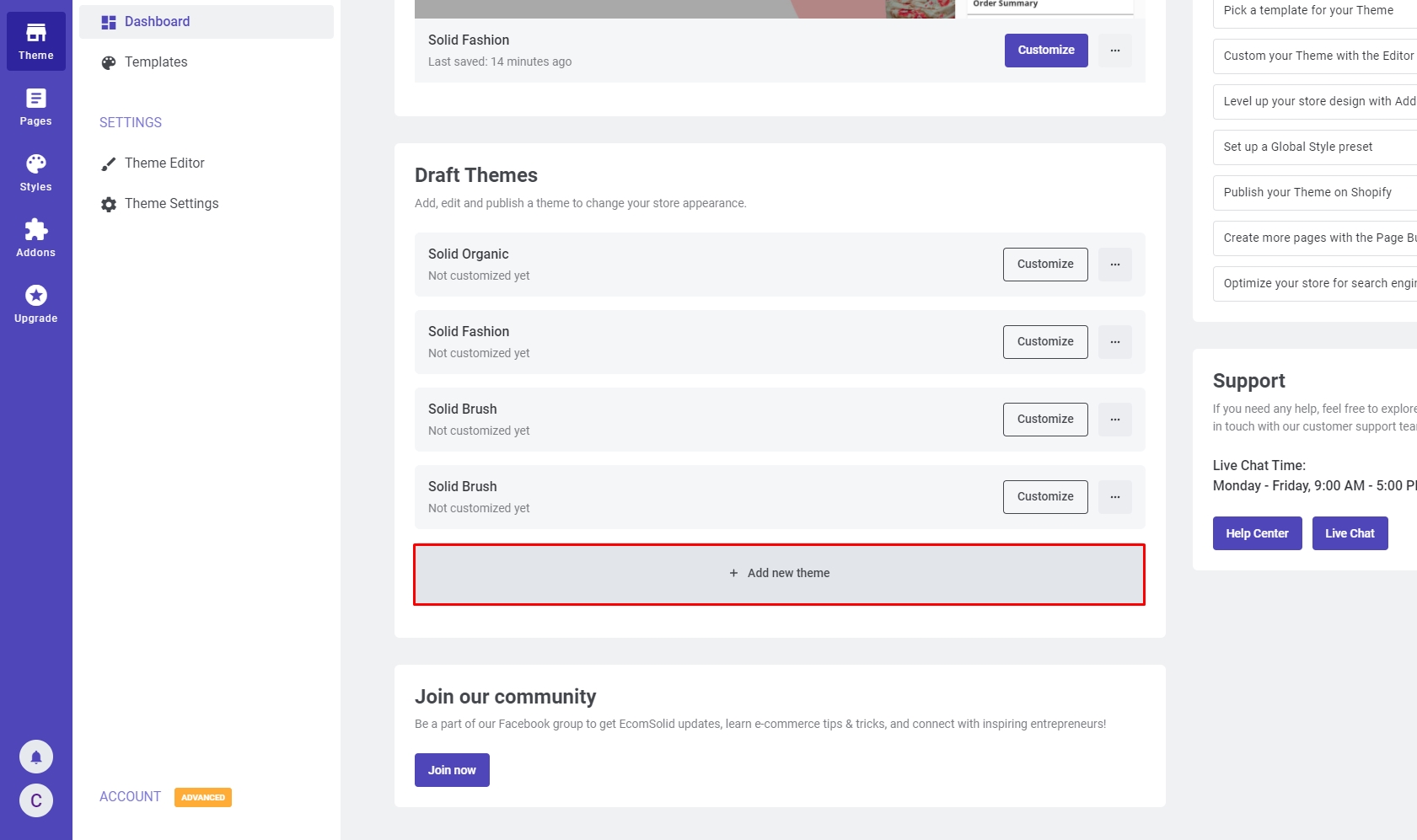 The maximum number of themes you can have at any time is 6. When this number is reached, there will be a notification message and the duplicate function will be disabled. To install more themes, delete one of your unused themes.
Please note that the number of theme templates you can create will depend on your
subscription
. For the
Launch
plan, you can create only one template while the
Growth
and
Advanced
plan allow you to create up to 6 templates.
Join our community
At the bottom, you will find the link to our Facebook Community, where you can connect with like-minded merchants to share and learn.
Quick Guides
The right sidebar provides you helpful quick guides to get you started, click on a topic and you'll be taken to the corresponding article on the Help Center.
Support
Right below Quick Guides are two buttons to go to our Help Center for self-troubleshoot articles or to contact our EcomSolid Support Team
Templates
Two tabs in the Templates section: EcomSolid Themes and Your Themes.
EcomSolid themes
Access our library of beautiful prebuilt EcomSolid themes. Our themes are always constantly updated both in terms of functionalities and design. Visit this article to learn more about each theme.
Click on "Preview" to see how the template looks and hit "Install" at the top right corner to add it to your theme library to start editing.
Your Themes
All of the exported themes are stored in this library.
"Insert" button: install the theme on your store
Share button: Share the theme with another store that also uses EcomSolid. See this article for comprehensive guidance.
Trash button: Delete the theme from your library.
Theme Editor
Customize your theme layout and content effortlessly with the Theme Editor. For more information, check out this article.
Theme Settings
Here you can update the general settings of your theme, such as changing the Favicon image and browser tab color on mobile or adding custom code to your store's Header.
Pages
Dashboard
Quickly create a new page or access your most recently edited pages.
EcomSolid supports 5 pages: Landing page, Product Page, Homepage, Collection page, and Blog post.
The maximum number of pages created varies depending on your plan. It's 5, 20, and 40 for the Launch, Growth, and Advanced plan respectively.
Pages
When you click on the page type; you will see the list of all pages previously created for that type together with the option to create a new page.
Styles
Here, you can choose and edit a global style from pre-designed presets from the list or create a new one on your own. For a more detailed guide, please check out this article.
Addons
The Addons tab contains all the EcomSolid add-ons, including the native and third-party integrations.
Upgrade
Find out the differences between various subscriptions we offer to select your best fit. Scroll down to the bottom of the page; the FAQs section will cover the most common questions about Account and Billing.
Notifications
Click on the Bell icon to access all the notifications about new feature releases, and other important updates.
Account
Account Settings
You can update your account details in this section, including your name, email address, and phone number.
Earn Rewards
Just one easy click, and you will earn rewards when spreading our generated referral link and check the status of your referral achievements. Learn more about our Referral Program here.


Our EcomSolid Support Team can be reached via the Live Chat button at the right bottom of the EcomSolid Dashboard.