This article will walk you through the steps to use the Countdown timer add-on to create a sense of urgency.
Add the add-on to your page
Step 1: From the EcomSolid Dashboard, head to the Theme Editor or Page Editor.
Step 2: Access the Library from the top bar of the Editor Page.
Next, navigate to Add-ons > Countdown and look for the Countdown Timer add-on.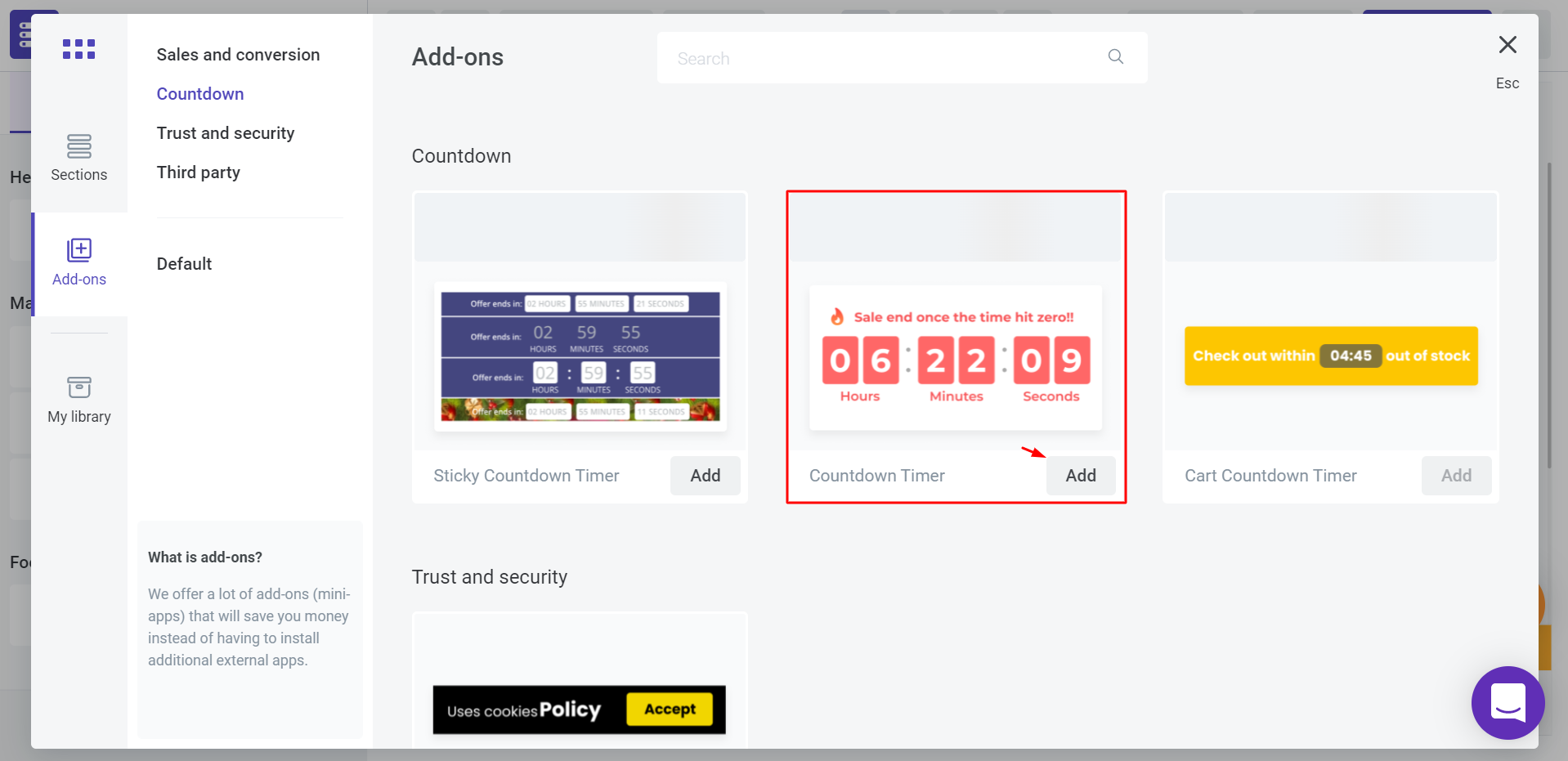 Configure the add-on settings
After that, you will find the add-on has been added to your Editor. Click on the add-on to start configuring the settings.
Display position
Hit the "Pick the position" drop-down menu to select a position from the list.
Otherwise, click on "Change position." You will be able to drop the add-on to a specific position on your page.
General
You can determine where to show the countdown timer here by choosing from two options from the drop-down menu.
#1. Always: The countdown timer will be applied to all of your products. By selecting this option, there are two types of timer modes available for you as below.
Scheduled: This option lets you select a specific date when you want the countdown to end. You need to specify the date we should be counting down to use this option.
Repeat: By turning on this option, the timer counts down the time from the moment your visitor enters the page. You'll need to set the amount of time we should display and count from to use it. Toggle on the Loop switch to restart the timer after the countdown completes.
#2. Campaign: The count down timer will be applied to some specific products.
Click on "Edit Campaign." A pop-up will allow you to create a new campaign and manage the previous ones. Hit "Create new campaign" and toggle on the "Active" switch to activate your new campaign. After that, click on "Add products" to pick the products you want.
Under the Pick a time section, select a specific date when you want the countdown to end.
Settings
Use the toggle to decide which text labels to display.
Configure the Design tab
Navigate to the Design tab to style your countdown timer.
Style & Skin: Select between the two styles for your timer.
General: Move the slider or input the number into the box to adjust the spacing.
Colors: Select a color or enter a hex color code for the background, text label, heading, and timer.
Typography: Select a font and font size for the text label, heading, and timer.
When everything's in place, click on "Save" and "Update Live" to bring the size chart to your live store.
If you run into any problems when editing, please get in touch with our Customer Support via email or live chat.