A theme consists of all the necessary pages an online store would need to function - from the Homepage to the Checkout page, and other custom ones. EcomSolid provides you a range of pre-designed Theme Templates that help you quickly launch your website.
Let's read this article and find out how to choose & apply the best-suited EcomSolid Theme Template for your business.
The Theme Templates are only available on the
Growth
and
Advanced
plans. Please
upgrade your plan here
.
Solid Brush
Solid Brush is a one-product store theme credited for personal care products, especially smile care services. It features a popular palette often used in healthcare themes, which are blue, mint, and white.
If you prioritize cleanliness, neatness, before and after images, it's friendly enough to get you done right away.
Solid Fashion
Solid Fashion is a tailored template for women's fashion & accessories. It comes up with a Homepage, Shop, Return & Refund, Track Your Order Page, and fully covers features such as Cart, Shipping, and Payment for any online stores.
If you are selling apparel, Solid Fashion is the right choice for you. The theme has a brand-new look, neutral palette, and breezy vibes. All conveyed and well designed in a comprehensively clean language.
Solid Kid
Solid Kid is designed for children's products or activities. It is ideal for online businesses that sell children's clothing, toys, games, or other children-oriented products.
There's a lot in this highly functional one-product store theme. Some of the cool ones are a unique Homepage, a well-designed Shop, optimized Return & Refund, and a detailed Track Your Order Page. The theme is also optimized with the fastest page load time and easy customization.
Solid Organic
Solid Organic is a responsive single product theme with powerful tools optimized for organic & natural stores. It is clean, modern, functional, and easy to use. The theme has been purposely built for healthy food & agricultural websites, or marketplaces full of veggies.
With a beautiful design and simple setup, Solid Organic can be used for multi-relating purposes. Customize this dynamic theme template to suit your website needs!
See full demos at Solid Organic Website
Solid Eye
Solid Eye is a clean and professional Eye Shopify theme. The theme is great for glasses, eye care products, or fashion accessories.
Handy to customize, Solid Eye shines with its outstanding menu feature that has fresh and appealing designed layouts. It is also fully responsive to any search engine and is SEO-friendly.
See the demo store at Solid Eye Demo Store
Megan Bebas
Megan Bebas is a modern outdoor Shopify Theme that brings unique design to all of your pages. The theme fits with multi types of open-air businesses such as outdoor activities, camping, trekking or clothing sport, hunting shop, and so on.
Build up your beautiful outdoor shop by simply adding and editing content and layouts with the drag & drop feature. With an awesome design, Megan Bebas looks amazing on any screen from a desktop, a laptop, a mobile phone to a tablet.
How to apply the template to your theme
Step 1: Install the EcomSolid Theme and Page Builder from our homepage or the Shopify App store. You can follow our guide to install the app here.
Step 2: From your EcomSolid Dashboard, go to Theme > Templates and click on the "Preview" button at the bottom right corner of any template to check it out.
Step 3: Preview the theme template on the desktop, laptop, tablet, and mobile screen.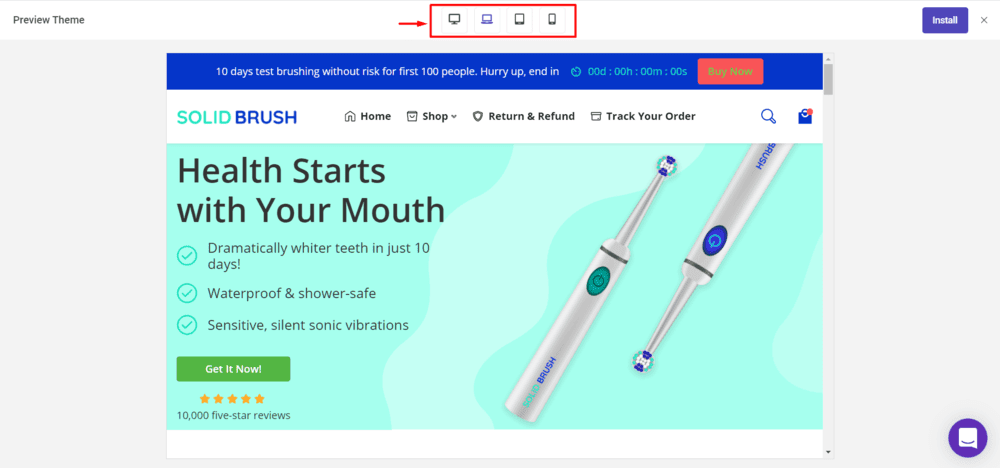 Step 4: When you're done with previewing, go back to the "Templates" section and choose "Insert" to apply the template.
Congratulations, you have successfully selected a template for your theme. Next, you can start customizing the theme and publish it to get your store running with a branded design.
If you need any further assistance along the way, our EcomSolid Support Team is always here to help. Please contact us via email or live chat from your Dashboard.