This article will walk you through the steps on how to add a mega menu to your online store and change the featured image on that menu.
What is Mega Menu?
Mega Menu is a drop-down menu with multi-level expansions that lets you pack your store full navigation into a single menu. A mega menu will allow the visitors to get deeper into your web store with a few clicks.
In addition to improving user experience and web usability, mega menus also help generate more sales, increase conversions, and keep your visitors browsing your website longer.
Add A Mega Menu To Your Online Shop
Step 1: From the EcomSolid Dashboard, head to the Theme Editor.
Step 2: Access the Library from the top bar of the Editor.
Next, navigate to the Sections > Header and locate the Header that supports a mega menu. Hit "Insert" to add it to your Editor.
Customize the Featured Image of your Mega Menu
On an EcomSolid Mega Menu, the featured image will be displayed at the right corner. It enables you to improve the navigation of your website by grabbing visitors' attention.
On the EcomSolid Theme Editor, please follow the steps below to update your featured image.
Step 1: Click on the header section you've inserted previously to reveal the configuration options in the left sidebar.
Step 2: Scroll down to the Menu section > Menu 1 and select "Edit Menu."
Step 3: There will be an opened window for you to edit the Menu and Submenus items. Click on the Settings icon on the right of "Mega Menu."
Step 4: This will open a new pop-up window for you to customize the mega menu further.
Toggle on the Image Product switch to show the product image on the mega menu.

Hit "Pick a link" to send customers to other pages after clicking the image. The link picker window will appear for you to select the link to add. There are two options for you at this point: enter the link to the "Custom URL" field or choose from the list.
Please note that the custom URL should include "https://" for the link to function correctly.
Step 5: Scroll down to the Image Product section. There are two options for you to upload your image:
Hover over the image and click on the Pencil icon to choose an image from your computer to upload.
Otherwise, you can pick one from the gallery, which contains all of your uploaded images.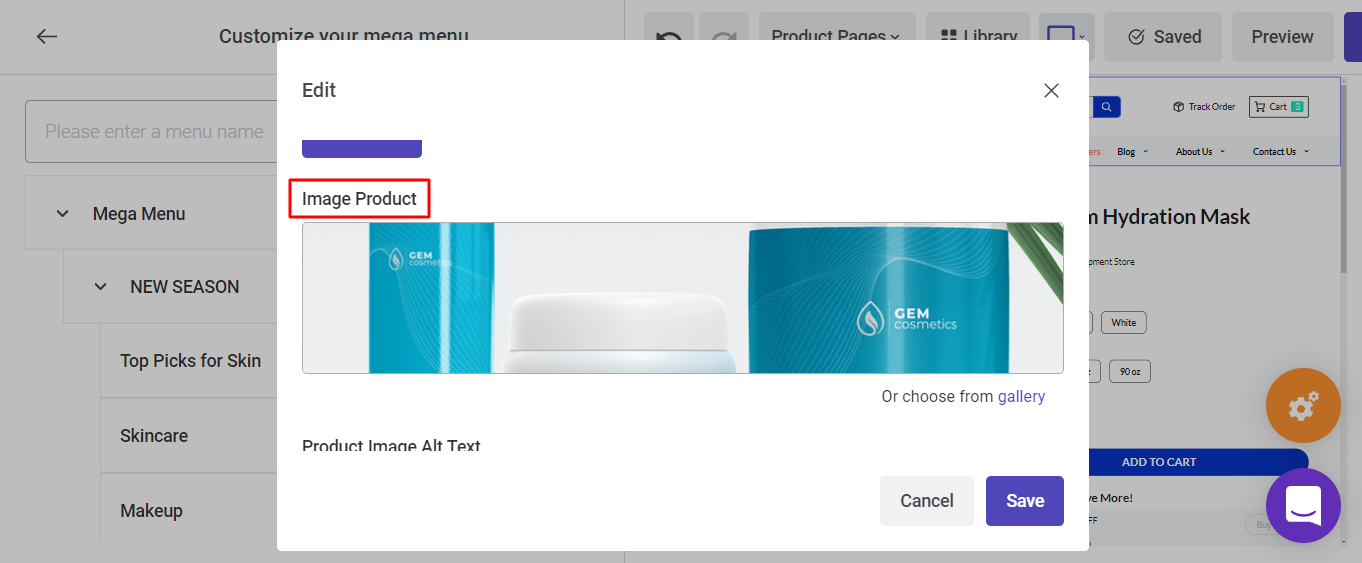 You can also modify the Image Alt Text, the Product's Name, and the custom message to appear under the featured image on the Mega Menu.
Hit "Save" when finished.
That's it! If you run into any problems when taking these actions, please get in touch with our EcomSolid Customer Support via email or live chat.