This article will introduce you to GemTheme and how to use it to create a high-converting web store.
What is Gem Theme?
When you open a Shopify store, you need to run it on a theme. A theme controls all the basic functionalities and determines your store's look and feel. For example, the theme dictates the Header/Footer, sections, and the buttons' appearance. Some themes offer special functionalities to improve the shopping experience, such as the slide-out cart page (cart drawer).
With EcomSolid, you get a GemTheme that is optimized for DropShipping. GemTheme comes with two templates for two selling styles: Multi-product store and One-product store, including nine different types of pages: Home Page, Product Pages, Collection Pages, Blog Pages, Article Pages, Cart Page, Search Page, 404 Page, and Password Page.
GemTheme is fully responsive and will look great on any device. Furthermore, it is still being updated to bring you more stunning prebuilt templates.
How to use GemTheme
Create a new theme
Step 1: Go to EcomSolid Dashboard > Theme > Theme Explore; you will find all the GemTheme templates here.
Otherwise, from the EcomSolid Dashboard > Theme, locate the Draft Themes section and click on "Add a new theme".
Step 2: Select your preferred selling style: Multi-product store and One-product store.
Check the box "Pro Plan: Boost Sales Kit" to include a package of add-ons that help you boost your sales value.
Hit "Visit Demo Store" to see how it looks.
Step 3: Click on the "Install Theme" button to start using the GemTheme.
You can install up to 6 themes at a time (1 active theme and five draft themes). When this number is reached, you will not be able to install more themes. If this happens, remove unused themes to continue installing new ones.
Customize GemTheme
After selecting to install GemTheme, you will find it under the Draft Themes section on your Dashboard.
Click on the "Customize" button to be directed to the Theme Editor, where you can edit all pages of your theme. The default page is Home Page. You can start customising your Home Page, or click the dropdown menu from the top bar and select the page you want to work on.
Publish GemTheme
After making adjustments as needed, hit "Publish Theme" and "Yes, Publish" for EcomSolid to start rendering and bring the new changes to your front store.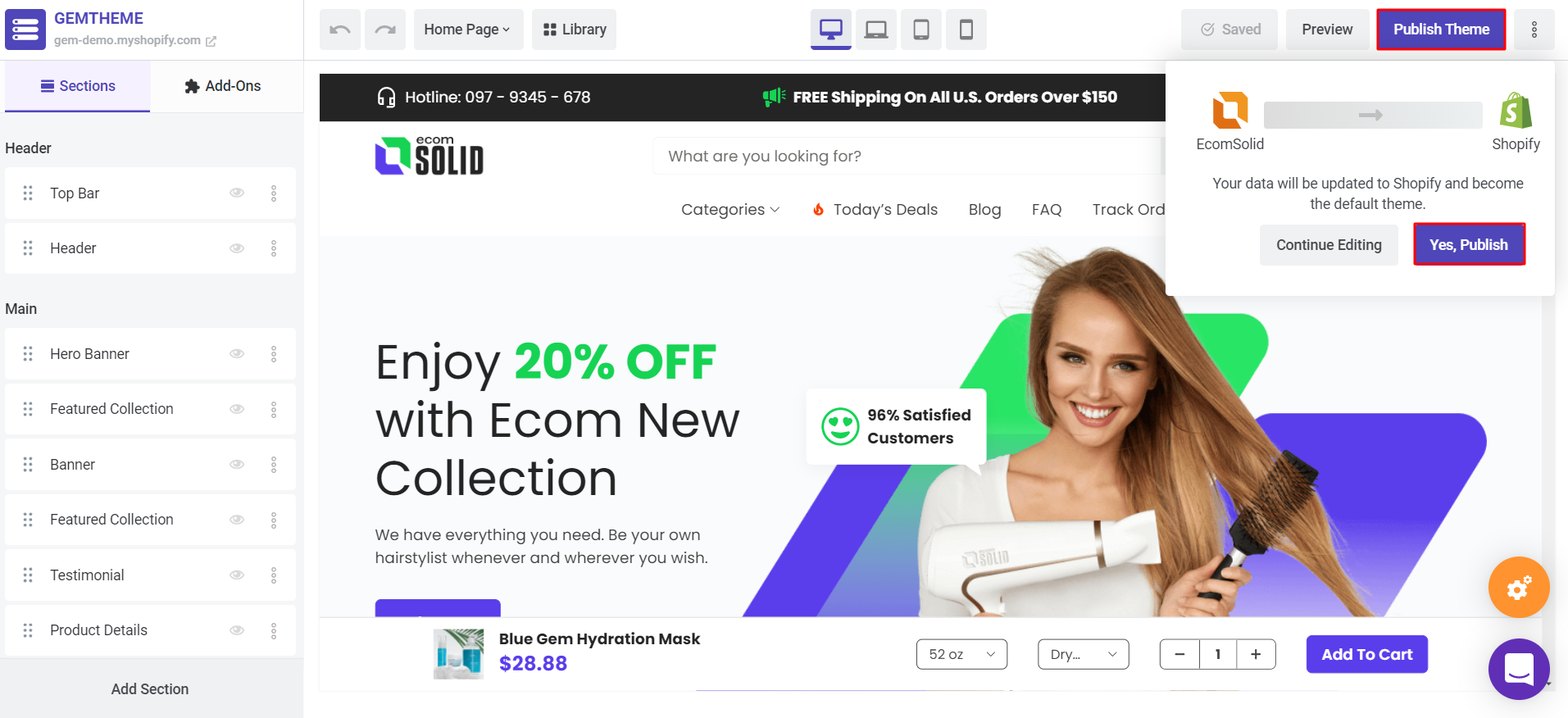 And there you have it! Read more of our articles here. Should you need any further information, please contact our EcomSolid Support Team via email or live chat.