What is global style?
The Global Style section is an interesting part that EcomSolid built for you to let your design work better and easier than a cakewalk. With just a few clicks, you can effortlessly set up your store with Color, Typography, Buttons, Form, and devices to adapt the theme's dimensions.
Exciting, right? Here is the way to define your process:

Apply the global style
When you open the Ecomsolid theme editor, a pop-up "Welcome to Global Style" will be displayed as a WYSIWYG editor that provides the overall pictures of the section to help a novice get started.
Click on Start Design Now! button to start applying the global style.


Global style shortcuts
If this welcome pop-up doesn't appear, you can click on the cog icon on the right at the bottom of your page, or click at
from Theme Editor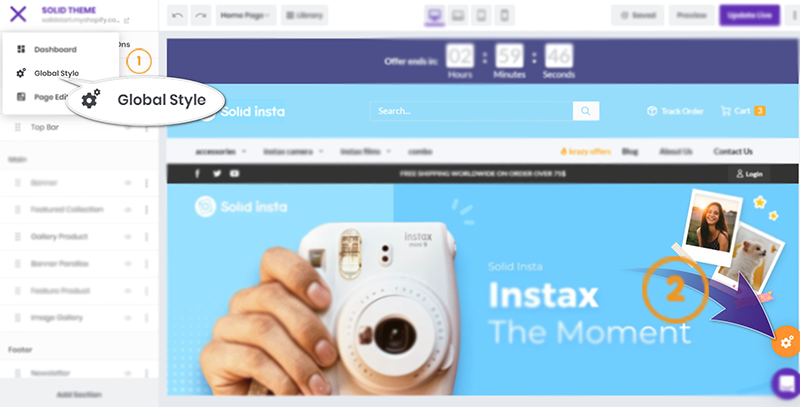 General
There are 5 elements that you can customize quickly and easily with global style:
Color
If you want a store color palette that fits your brand story, it is highly recommended that you use the color setting. This element helps you customize:
the brand color
highlight color
background-color
add your own color palette matching your brand perfectly.
Typography
Typography design is about much more than simply making the words legible. You can change:
the font
weight
color of:
・the headings
・subheadings
・buttons
・and paragraph in section presets.
It also has multiple options to set up:
the base size
the line-height
change the look & feel of your links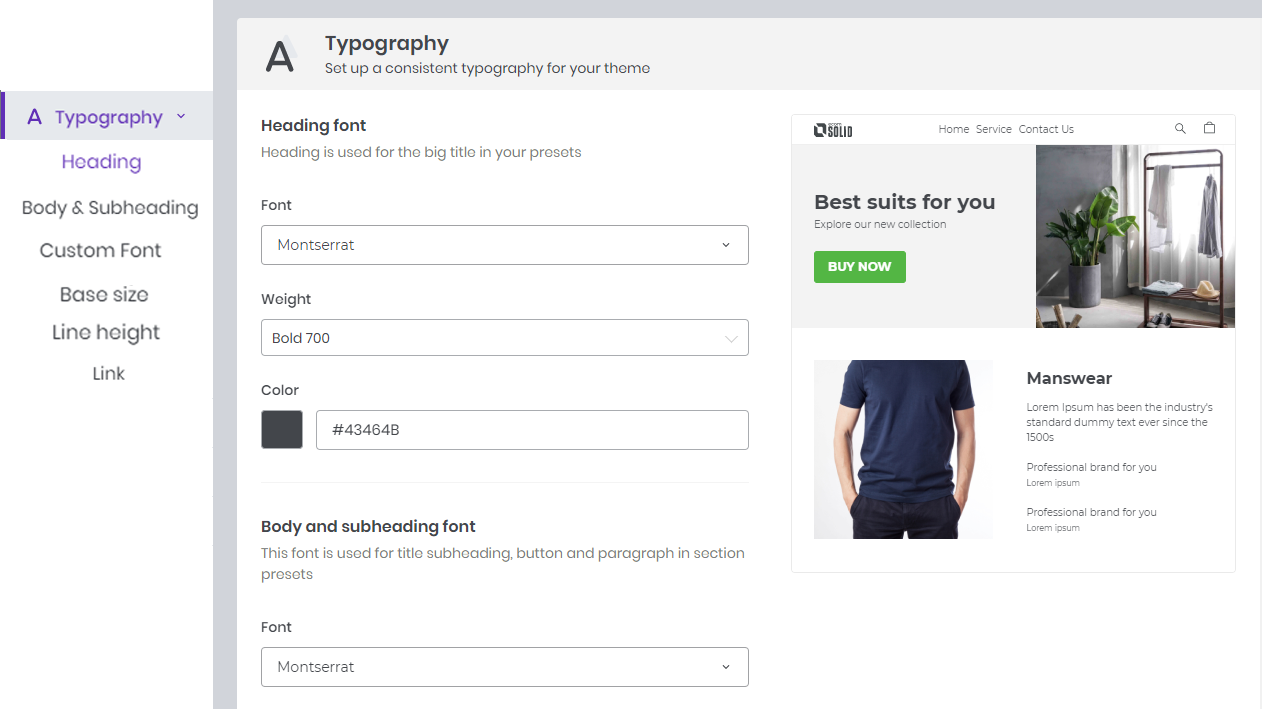 Button
Button setting is to customize
button color
button style
You will need your store synchronized and the button has its effect on that purpose.
Form
Online forms provide you with an easy to implement, secure solution to gather the data you need in a consistent automated manner. Form Setting on the Global Style allows you to customize the appearance of the elements in the form by inputting:
input placeholder color

border color

border hover color

border focus color

border radius

border width
Responsive
Adapt your theme's dimensions to each device including desktop, laptop, tablet, and mobile
After you're done designing your page using the global style, you can click on the Save settings at the top of your screen to save your work.
Final Words
That's the end of Global Styles tutorial.
Let set up yours right away!